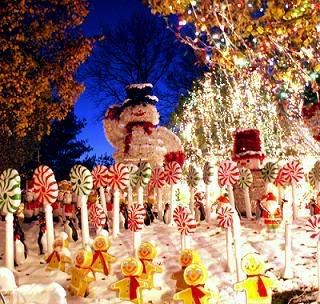 HOHOHO MERRY CHRISTMAS 2008!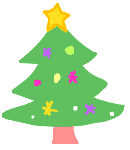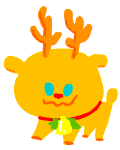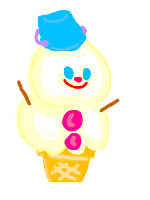 KAKAKA so cute!
and

turkeys to go with! i supposed they dont taste nice anyway.
Ding Ding Dang, Ding Ding Dang ...
On the first day of christmas my papa gave to me, one shio shio eh jiam tao lou ti (hot french loaf bread) .......my bf sorta rephrase it into this awful lyrics but its quite funny though.
I had been eating logcakes ever since nearing christmas and im never sick of it!
Currently im still receiving the pictures for xmas with my family etc and so it will be in the next post. However, some belated ones.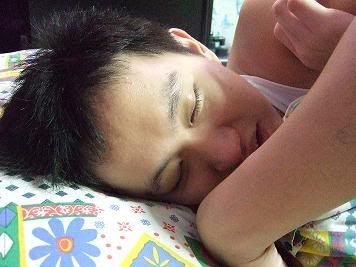 pretty boy...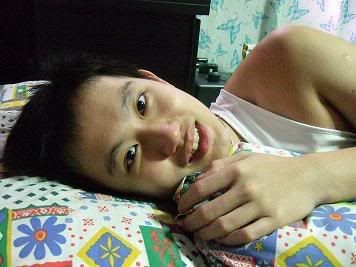 fat boy...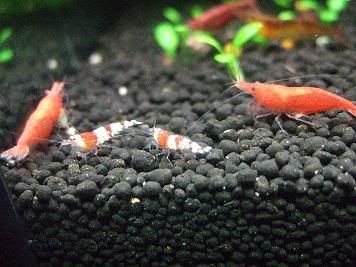 Close up view of his babies!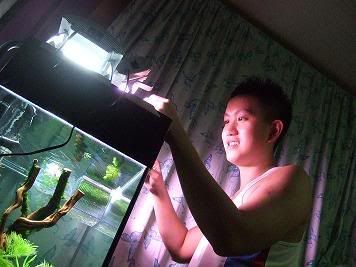 Fei Fei Ang in Action!
Hunney went for lasik over at paragon. So sudden and random..just because he broke his glasses and decided to go for lasik since a pair of it would already cost 300 odds. He went down for evaluation and the next day, he had his lasik done in 15mins or so. Amazing uhhh of coz the waiting hours add up to 1 hr plus or so.
Before lasik, he had his glasses on.. and oh yes, introduce new member! The bigger bear was bought by him specially in JB. He looked abit retard and so we decided to name him dua kor dai or potato. One cheena name and one english name. Sounds so lame for such a retard bear! But too retarded till its cute. I love!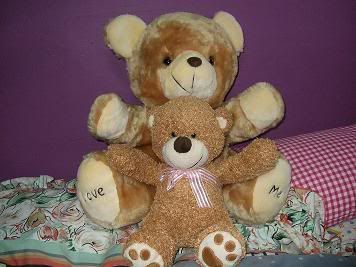 Scissors paper stone!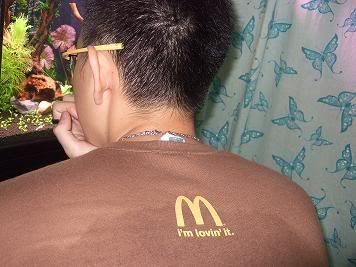 Mcdonald fan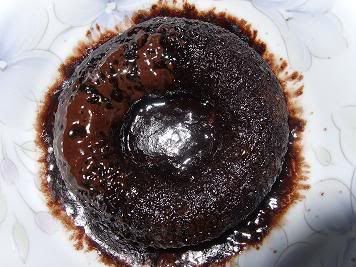 Together with the bear, he bought me 3 dunkin donuts as supper! Good life uh, donuts from malaysia delivered to me as supper...woooohooo
Sad to say, it looks like shit coz we went to microwaved it the next day. Thanks to Mr Pui pui Ang, heat it for too long and that explains this pile of shit here.. muhahaa
oh yes, after the lasik, he looked like ultraman---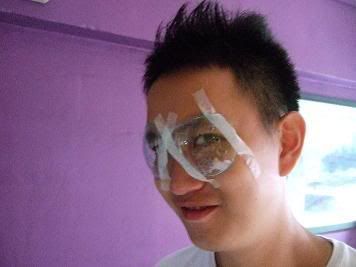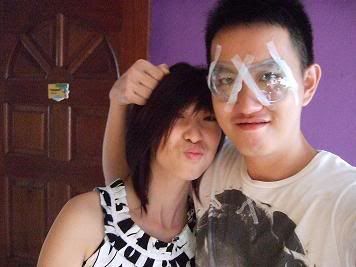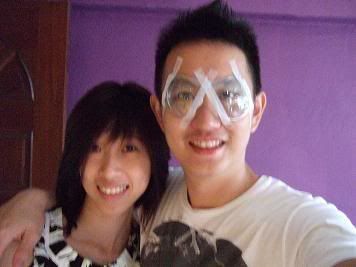 Ultraman loves pasta especially carbonara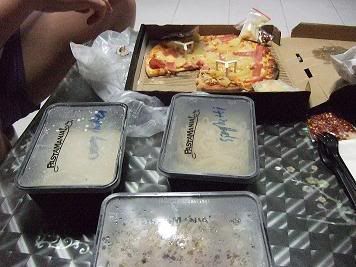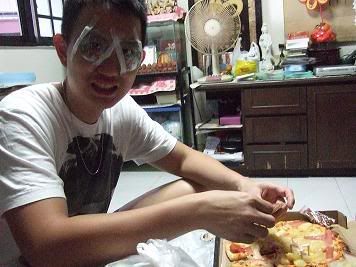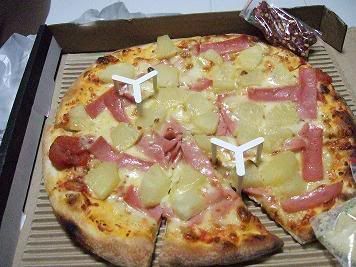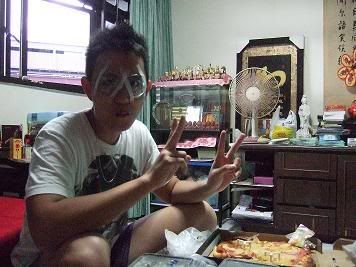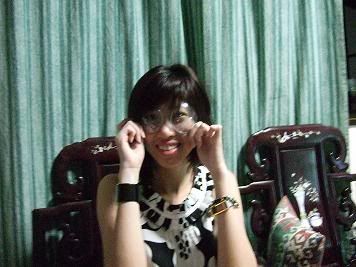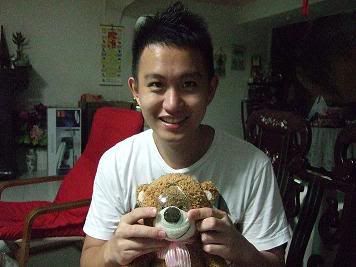 Happy must put it on too!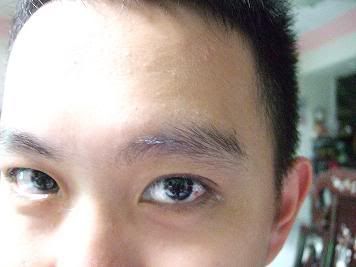 Due to the lasik, pressures were exerted into his eyeballs and that explains the bloodshot. Seems abit... errrrrhhhh ... He says its cool to have bloodshot eyes.. MADNESS. It takes time for it to go off.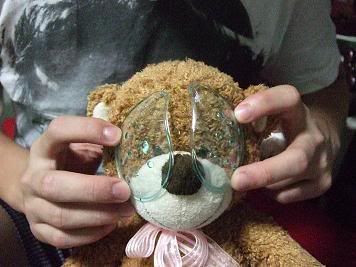 HELLO HELLO!
While he was at the clinic reviewing his eyes, I went raoul to search for nice boxers for him as part of his xmas gift..the sales person introduced me new series of boxers made of silk and just then, my ah pui came in and as expected, he knew i was going to buy that for him. He kept nagging and said it it would be expensive to buy a boxer that cost $20-30 and i practically ignored him. Happily marched to the cashier and waiting for payment to be made. When its my turn, the cashier mentioned that there will be a 10 % off for citibank's card and my ah pui said that he would pay first. After some typing, the cashier said, " $106 after discount sir". HOHOHO i can see the astonished face and reaction. SWEAT MAN. $106 for 2 silk boxers! hohoho. He almost wanted to scream at me for buying such expensive boxers..well, he must be thinking not as if the area to be covered is made of gold. HAHAHA. I can feel the pinch in his heart because in the end, he insisted not to pay him back and take it as he is buying it for himself.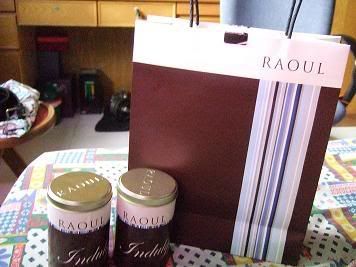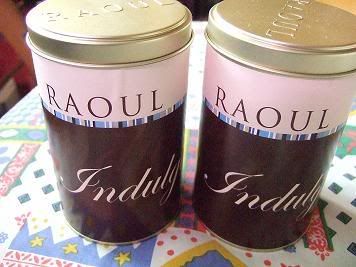 time for some self pics.. i havent been taking it for 2 months already man!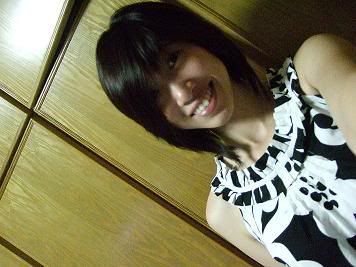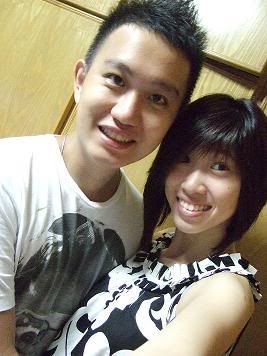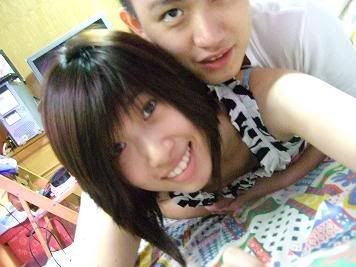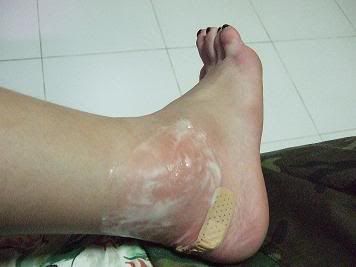 Oh yes, swollen ankle! Till now, im still not sure what causes it and the stupid retard doctor diagnose it as some... illness... which is rather serious. CHOY CHOY CHOY. I went for the blood test already and yet to be out. Damn friggin slow!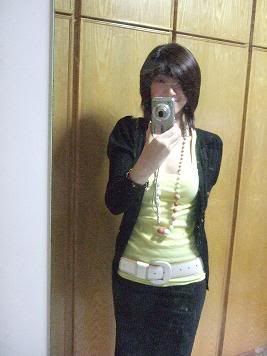 Im so sick of office wear seriously.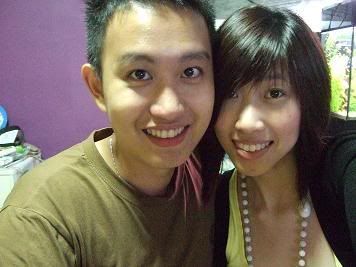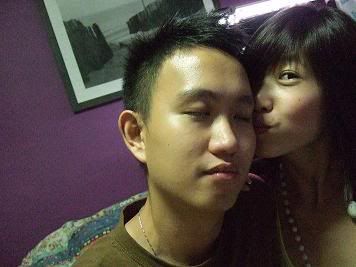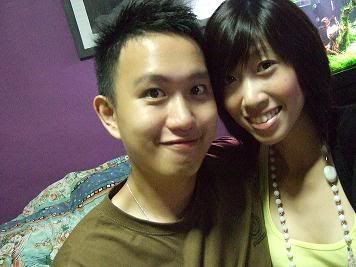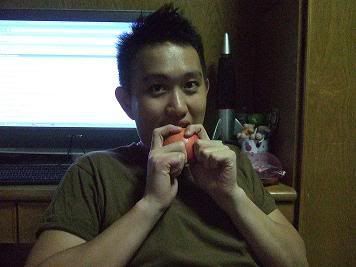 Ni ni loves to bite apples into pieces and feed me those tiny bits. im lazy to bite
-.-"

he bought me my fav TONG HENG eggtarts!