WWWEEEEET, finally my biggest fan is asking me to update and yes loved bun!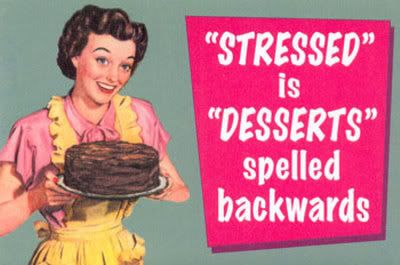 STRESSED = DESSERTS ??? hilarious!
That explains why I have been binging on snacks, food and especially desserts!!! For instance...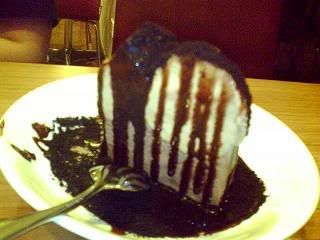 Mudpie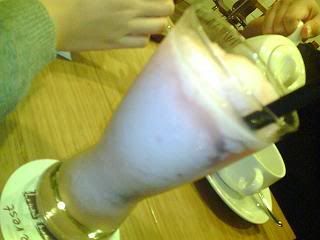 Iced Rambutan with bits of real rambutan.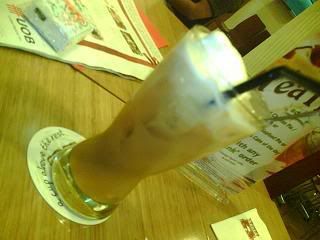 Passion with Vanilla Ice-Cream.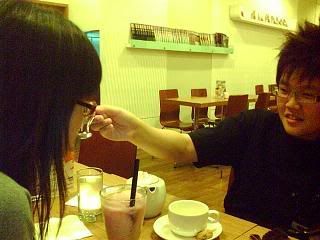 Cyan is trying to feed Jas to a fat bitch! hahhaa
They can really be my good study mates and khakis.. not only studying for exams with them, but also desserts and coffee clubbbss. Her murano is humongous DAMN.
On another day, we met up at Gelare for mugging session. There was a long queue forming up right outside gelare and we realised starbucks is on the HOUSE from 5pm to 7pm. And where in the world would be so coincidence that the salvation army is asking those people in the queues for donations. THINK.. THINK THINK. A form of marketing strategy! Well, i dare not mention too obvious elses i'll be sued for christ sake. I wanted to queue up for Jas and get her peppermint mocha frap but the dummy both of them said im GIAN PUN! For once, i shall not be gian pun. haha. Free eh why not?! Any drinks on the house man. AHEM, IM A CLASS ONE so no free starbucks. =(
Maybe because we are sweet lovely ladies, we were being offered free food in gelare.
The people beside us were eating a medium sized ice cream oreo logcake.. and taadaaaa they suddenly offered us a sliced each!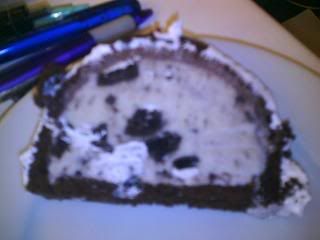 since they already sliced the cake..so dont waste their effort uhhh
NOT GIAN PUN OK!
Then there came in 3 bosses, sitting another side which was also beside us. This guy was saying you girls are studying uhhhh, you want some ice cream? i treat! then we were like uhhh nono thanks alot...*i wanted!!! ive been staring at the waffle and ice cream...* pout.. who knows the guy has evil intention? So he started saying, its better to study something that you can major in and not in general. And their english were ABC slang. YOYO. nahhh not this yoyo kind. Then they started critising bout starbucks giving away free drinks.
Thanks nini uh, for god's sake, when i told him bout this 3 fellows offering us ice cream, he commented: did he ask if you want to eat my ice cream? OMGGGG haha fucking funny. He was DIRTYYYYYYYYYYYYYY !!!!
Finally exams are over mannnn. Its torturous and its killing me day by day during these periods. You saw me throwing a big rock over to you? Very soon girls, it'll be your turn. You know who you are uhhh!

im freee!!!
Weekends with hunnnny niii was extremely good despite the stress im going through. The very lame actions and things he would say would make me roll. We are really a big fan of Macdonalds



.. he can drove around pasir ris to find macdonalds in the midnight just because the first mac we went was closed. We had kids meal! coz we simply consumed too much of food for that day.
This crazy nini can spend 50% sleeping, 48% playing with his prawnies

and 2% surfing the net and eating. I cant imagine those lil ikan bilis can be his precioussssss. I wonder if he would spend 50% of his time looking at me, admiring my beauty?? hahhaa no way man! Woohooo he bought me a bear and we named it potato aka dua kor dai aka kan tan. (hokkien pls) The bear has the word LOVE ME on its feet .. so cuteeeee!
Nini is complaining that he's fat!!!

YOU!
Look at the tummy area ni, it really looks like your tummy. Dont deny pls. MUAHAHHA
Long time since we last dine out and thanks to cyan n jas, we got the BILLY BOMB BOMB (bombers actually) voucher. Decided to utilise it well!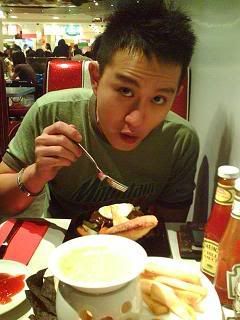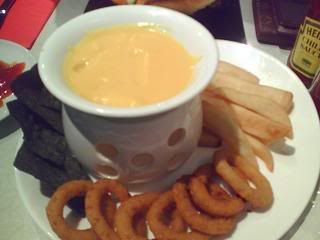 hip cheese fondue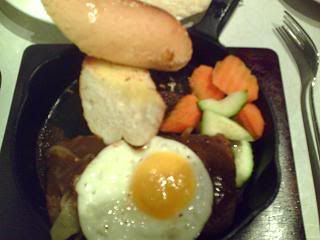 American meat loaf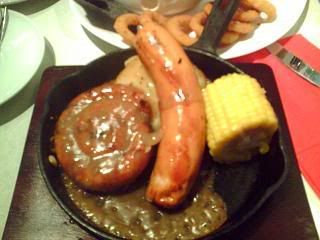 Snail sausage and cheese
ohh yes, we shared one chocolatey sinful milkshake...superbbbbbb anw, they are famous for their milkshakes. Finally, i reserved this pair of pumps from pazzion.. i think its frigging 69 bucks.. i told the salesgirl to reserve this size for me coz its not available in that outlet and after that i flipped the pump round n saw the price. I think its worth the money due to its brand n its well known for its comfy-ness and it had shimmmeeerrrs! right hong da jie, we must invest in gorgeous heels n pumpsssss! remember the GUESS one?? hoho.. I alwaz trust my friend's taste, my own taste and my nini's one la! he suggested me to try on this pair of pumps and it turned out to be B-E-A-U-T-I-F-U-L
IM GOING TO CATCH GOSSIP GIRLS NOW!