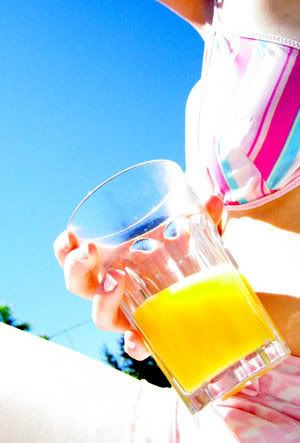 Orange juice keeps you awake =)
Blink of eye and my beloved weekends are over~~ 2 days arent enough seriously. Time spent together with hunney is always not enough. I would always look forward to the day to meet him because he's my rainbow and lollies to make me smile.
I slept early on friday night so that i can wake up early to buy breakfast for hunney! Bought Bk breakfast and famous amos cookies for snacks in the noon. When i got his place, the first thing i'll do is throw the breakfast on the table and crept into his room and curl up under the blanket to lie beside this big baby. Sometimes, i'd find drools on it haha but not this time. And he would slowly opened up his eyes and see me and said, hunney.. followed by a big huggg. XD I will try to be less mushy because i realised more and more people are reading my blog. But the main objective of this blog is specially created for him as this is part of his everyday entertainment.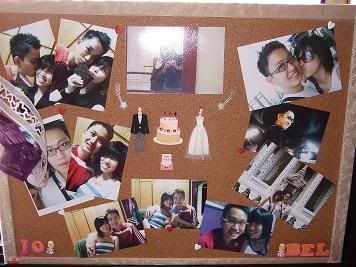 the board i made for him.. certain pictures were being replaced by the newer ones by him.
We tidied up his room together.. and its so clean now!
Hunnn borrowed wii from his colleague ..thank you so much!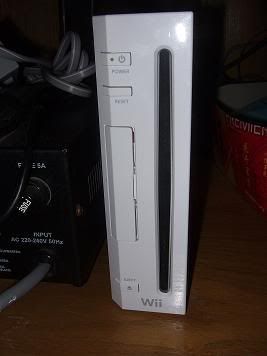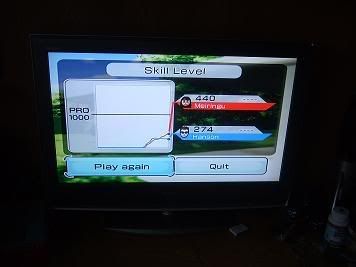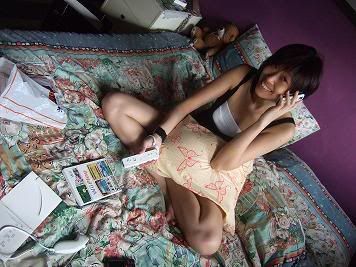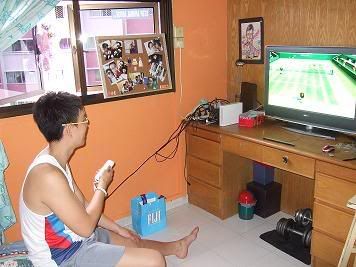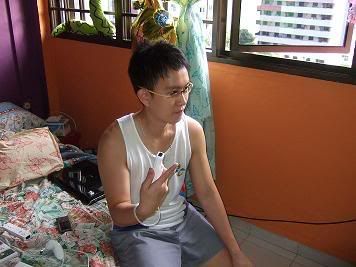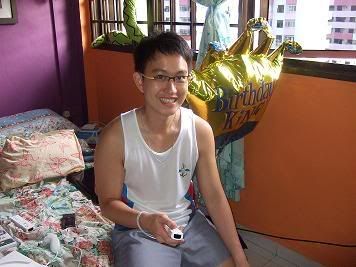 He's so obsessed in the tennis game. Played as if he's a PRO.
woooohhoooo videod him playing the wii-The boxing game. Its so hilarious ..reminds me of a lil boy haha.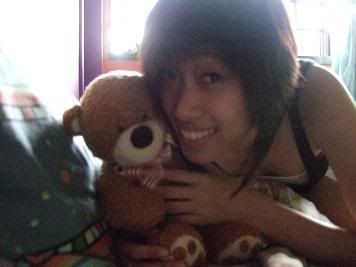 Goldilocks and the only one bear.
Stayed over @ his place for the night =o. I was grumbling and complaining to him bout having "teh peng" all he did was saying NO NO NO all the way due to my coughs. I wanted so much to use to wii remote to smack his head. =x and and and, the most amusing thing was i can actually got so agitated and angry while playing the baseball game with him. I cant believed that every ball i hit, it was caught and immediate OUT! and yet, the balls i threw to him, he managed to hit it by making the characters holding the bat in a stupid and funny way. And not only he hit the ball and it flew, it got him HOMERUN! the score is always 6-0, 5-0 .. how can i be not angry??!?!!? when i used to be a baseball player?!?!? okays, im a bad loser. haha. Even the tennis game, he was being nice to tell me that i was abit slow in hitting the balls thus my ball is always out.. i gave him the annoyed and pissed off look -_-" which made me looked like an idiot .. making him laugh at me. FANCY GETTING PISSED OVER A GAME. When i think back, i felt like laughing at myself! pooofff what a sore loser ms hong! haha.. maybe its because he gave me the yaya papaya look when he won or whenever he managed to hit the balls. Still, i enjoyed playing with him hahah!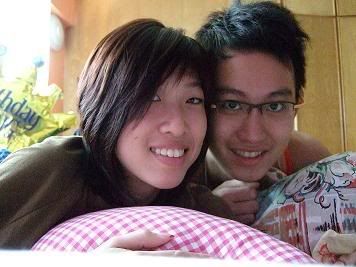 When i just got up... swelling ugly face. He bans me from deleting it coz he felt that he looks good =x
Wanted to have pasta over at Creation-Shaw but it was only open in the evening so we headed to suntec for pepperlunch.
Beef pepper rice with cheese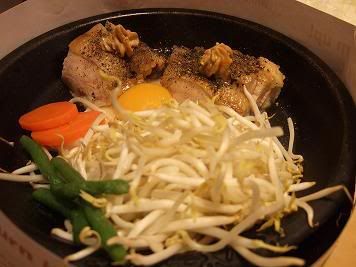 and i had double chicken with egg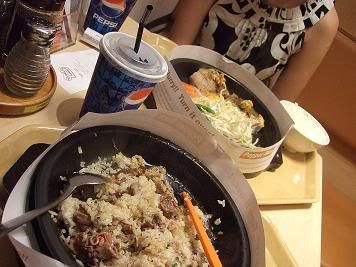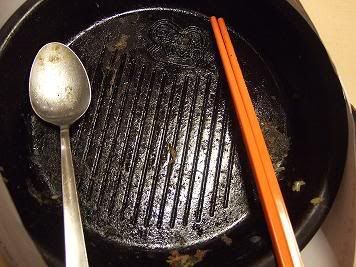 NOT EVEN A SINGLE GRAIN LEFT BY HUN! No wonder i got no pimples haha!
Action pack! hAH. Actually he was getting ready to insert the car ticket.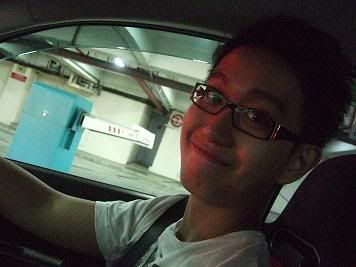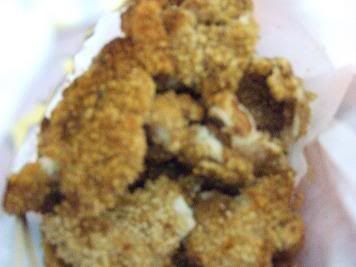 Shihlin XXL Chicken. Its one of his fav snack.
I ate so much today.. after pepperlunch, we had andersons chocolate ice cream. ( after eating for 2 spoons, he realised im having cough and he barred me from eating and said that no more for you. He took over the cup and finished the WHOLE CUP!) i thought he was kidding with me and closed an eye but thennnnnn god knows, he meant it! tmd. JIDAN. Well, we all knows he's greedy!
After the ice cream, i went round looking for donut factory theee heee.. bought a box of 6 and he went to buy xxl chicken.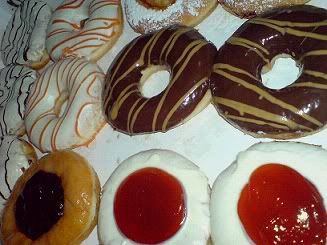 Even if i had to queue for 1 hr its still worth it because the donut is really soft and chewy! Thank god, now there wasnt long queues. The donut sends you to heaven and it brings women orgasm hahah! I ATE 3!!!
Sighhhhh work again.... =(