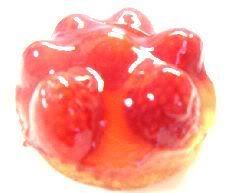 Urghhh! Im so in love with sweet stuff. Bel Bel got a sweet tooth Bel Bel got a sweet tooth~~

peeps! Office is rather dry recently and all I did in office was finding entertainment for ourselves and I dont deny the fact that the things we did were rather annoying and disturbing haha.. well, its a way to keep us happy!
Weeekkkennnddss!!!!
Oh yea, i was invited to stay over again!

Watched the movie "881" ~~well, quite a nice show that depicts the seventh month getai and of course there were some sad scenes. YOU THIS TECHNO CAT. hah. At least i get to learn urban language from this movie.
Followed by prawn fishing with his colleagues till dawn 5.30 am ! OMFG. And they caught a total of estimated 100 prawns. Barberqued it on the spot with extra ingredients of soy sauce, pepper and salt. Its awesome *lickin' fingers*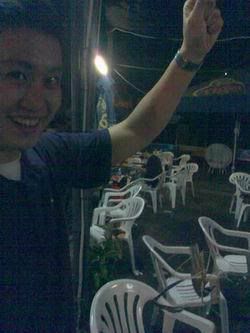 Good Job Pokie hun ni ni~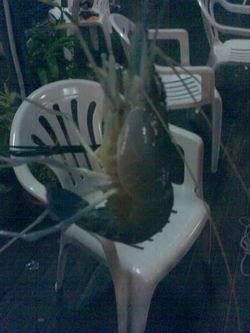 And!!! For the first time i caught such a big prawn ok!! *provided if you know how to estimate the size from this pic.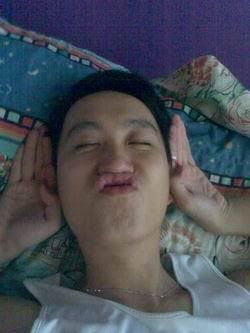 I think he will kill me if he sees it.
Hah, a flying pig or an angel or who knows, angel pig?! =x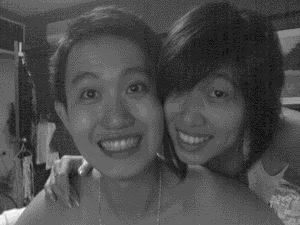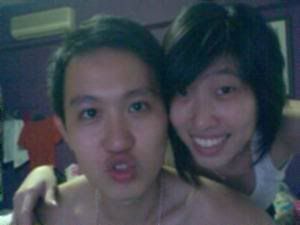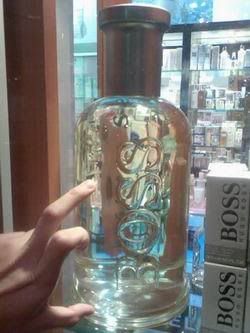 Giant size of HUGO BOSS COLOGNE. Imagine if i buy this for my pokie hun, he can use it for years. hah. Anw, i finally replenished my perfume and its ferragamo again together with hun ni ni's hugo. Oh and a mini dolly girl anna sui that smells like

.
Sigh, come to think of it, i really do enjoyed the times with this pokie~~i wanted so much to meet him on weekends because thats the time whereby we can really see each other more and do more stuff together. It can really make the monday blues go away... but his lesson starting this week and i hope it wouldnt affect much of the time and i really do hope our relationship is strong enough to overcome anything. After much downturns, i treasured it more than ever...
And i realised we seldom chat on the phone haha! But a short phone call with few smses makes isabel's day a happy one. My vaccination and medicine to the road of happiness and cheerfulness.
Sigh,,, i hope everything goes smoothly and back to my previous blog entry,
i want to walk on the red carpet with him.... if only...
im feeling so helpless okay! i spent hours n hours trying to get rid of the fucking msn virus can! its like mass sending to all my msn contact list and even though i found the way to clear it, im not some computer freak to really understand and get rid of it. URGH.
YESH, despite the msn virus that made me so pissed, im still duper ultra happy today!!! I have a baby.. and its HAPPY. He's quite pathetic, got thrown down by his mom from 12th once, got thrown to the floor by his daddy and mommy once each and he's still very happy. Abit sick uh? And recently, he's short sighted and seriously need a pair of glasses. I shall introduce him sometime later. Oh, the reason for being happy is because he had a complete happy family.
OKay, enough of my nonsense. Nite! Im HAPPPY.... HAPPPYYY HAPPPYPYY HAPPPPYYY